Catering breakfast for your team…..turns a simple morning meeting into an enjoyable opportunity to foster real connections. Your generous gift of time combined with delicious food conveys your respect and appreciation.
If you want to explore 5 healthy breakfast catering ideas, keep reading.
Benefits of Healthy Corporate Breakfast Catering
Providing a catered breakfast is one of the most effective ways to boost the morale and productivity of your workforce.
Successful organizations, such as Netflix, Indeed.com, Spotify, Intel, and Square, foster a sense of community, often encouraging their team members to gather over a meal to recharge and exchange ideas.
Moreover, studies show that well-fed employees tend to be more creative and productive. Instead of rushing to work with a cup of coffee in hand, employees who have time to savor their breakfast are happier and more energetic; without a proper start to the day, they may feel sluggish and unfocused.
Providing breakfast at work can also alleviate some of the stress that employees experience. Sharing good food and engaging in interesting discussions often leads to mutual respect and collaboration.
If you're looking for delicious breakfast catering ideas, The Inlet offers a variety of options, ranging from classic choices to healthy appetizers to delectable sweets.
1. Classic Farmhouse Breakfasts]
Healthy breakfast options may start with fruit platters, but they don't end there. A hearty breakfast is just the ticket for employees who prefer farmhouse options.
Classic breakfasts like those featured below should be prepared to order and served as part of a plated menu. An on-site chef can create tempting egg dishes for your staff and coworkers with customized omelets or traditional breakfasts with sunny side up eggs.
Three Egg Omelet
For a mouthwatering omelet, choose three of the following ingredients: Cheddar, American, Gruyere, or Feta cheese, fried onions, spinach, jalapenos, diced tomato, bell peppers, chopped bacon, sliced sausage, or diced pork roll. Omelets are served with potatoes and toast.
Three Egg Omelet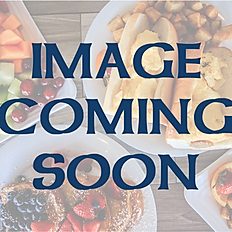 Enjoy two farm fresh eggs, prepared any style, along with crispy potatoes, toast, and your choice of breakfast meat
Cream Chipped Beef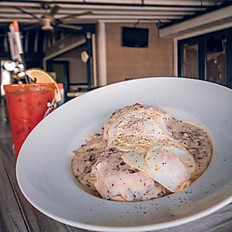 Comfort food at its finest! Two fluffy buttermilk biscuits, covered with cream chipped beef and topped with two sunny side eggs. You can add potatoes for an additional fee.
Avocado Toastie
If you want a tasty, filling breakfast, try the Avocado Toastie, made of two slices of wheat toast and layered with mashed avocado, fresh tomato, and a sunny side up egg, all sprinkled with Everything seasoning.
Jersey Hash
For a flavor explosion, dig in to Jersey Hash, with its crispy potatoes, diced onion, bell peppers, chopped sausage, diced ham, and special blend of three cheeses, all topped with a sunny side up egg.
2. Breakfast Appetizers
Unlike a heartier, full-service breakfast, breakfast appetizers and continental breakfasts require little preparation and are a snap to organize.
Typically, these dishes don't include hot food or pastries, making them ideal for busy employees. Add a fresh cup of coffee, and your team will be ready to tackle the world.
Fresh Fruit & Yogurt Plate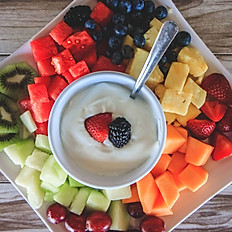 Enjoy juicy watermelon, chunks of pineapple, and mixed berries, all perfectly paired with creamy vanilla yogurt.
Lox Plate
For a more traditional breakfast treat, opt for lox with cream cheese, served on a toasted bagel with diced tomato, boiled eggs, red onions, and capers.
3. For People with a Sweet Tooth
For special occasions — or for anytime, really! — offer your team something decadent, such as country French toast, fluffy pancakes, Belgian waffles, or fresh banana toasties.
Like the classic breakfasts, these dishes can be prepared on-site for an added "wow" factor, with eye-popping piles of fruit, chocolate, and whipped cream.
Some caterers set up pancake and waffle stations with gluten-free options, allowing workers to customize their breakfast. This can be a terrific option for employees who have dietary restrictions.
If you prefer, ask the caterer to adapt the dishes slightly. For instance, the chef can make French toast sticks, mini pancakes, or sausage and pancakes on a stick.
Belgian waffles make terrific breakfast appetizers, loaded with fresh fruit and drizzled with warm syrup.
For a nod to childhood, consider banana toasties, with gooey peanut butter slathered over a crostini and topped with fresh banana slices.
You can turn a boring workplace breakfast into a celebratory event with these sensational treats!
Country French Toast
Thick-cut slices of Texas toast are buttered and drizzled with maple syrup, then crowned with whipped cream. For an additional charge, you can top your French toast fresh berries.
Buttermilk Pancakes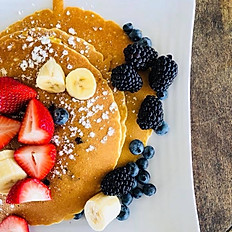 Enjoy a three-tiered stack of fluffy pancakes with a generous drizzle of maple syrup and whipped cream. For an extra charge, you can add chocolate chips and/or berries.
Belgian Waffles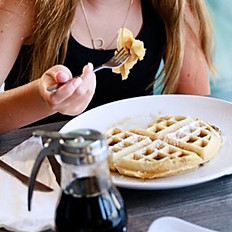 These deep-pocketed waffles can easily accommodate maple syrup and whipped cream. A fine dusting of powdered sugar completes the dish. If you like, you may add seasonal berries for an additional fee.
Banana Toastie
Who doesn't love peanut butter, sliced banana wheels, and cinnamon-spiced honey layered on sliced brioche crostini and topped with granola? Yum!
4. Think Outside the Box
Grab-and-go breakfasts don't have to be boring! Round out your breakfast catering ideas with hearty sandwiches and burgers.
The selections below can satisfy the largest appetite. By providing two-handed breakfasts, you ensure that your employees return to work filled and ready to engage.
Pork Roll, Egg & Cheese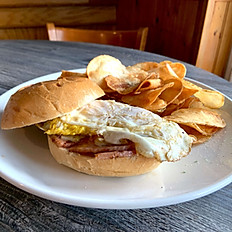 Sink your teeth into sliced Taylor pork roll with American cheese and two sunny side up eggs, all on a soft potato roll. If you're craving a little something extra, you can add bacon for a small fee.
Breakfast Burger
Think outside the burger box! Try a sunny side up egg, shredded lettuce, American cheese, house sauce, and pickles on a soft potato roll. Add bacon or pork roll for an additional fee.
Breakfast Stack
If you're really hungry, try the Breakfast Stack, with two sausage patties, two pork roll slices, fried egg, and American cheese, served on a fresh croissant bun.
Sausage Egg & Cheese
What says "breakfast" better than sausage and eggs? Enjoy three scrambled eggs, savory sausage links, and American cheese on a Liscio's long roll.
5. Hey, What about Wraps for Breakfast?
According to nutritionists, a balanced breakfast should include whole grains, fruit, nuts, and spinach.
For a light and flavorful, grab-and-go breakfast option, choose a wrap that includes a protein, such as chicken or turkey. Add a side of fruit or a glass of juice and you're good to go!
Wraps are easy to serve and eat, which is important if the breakfast is combined with a meeting where employees are expected to contribute to a discussion.
Chicken Salad Wrap
Looking for a fresh alternative to standard breakfast fare? Try a spinach wrap with spring mix and house chicken salad with walnuts, apples, and tomato. Perfect for catered lunches, too!
Final Thoughts
Catering for a morning crowd need not be a chore, especially if you have a wide range of options to suit various tastes and needs.
Be sure to include a variety of drinks, including coffee, tea, juice, and water.
The type of catered breakfast you need will depend on your budget, the number of people you will be serving, and if there are any dietary restrictions.